Lucite Embedments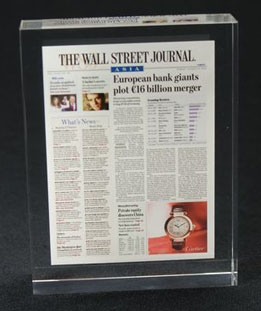 Permanently Seal and Preserve
Your Most Treasured Items!
Do you want to display your Diplomas, Certificates, Photos, Newspaper Articles, Financial Documents, Financial Deals or Personal Artifacts in a permanent and attractive format?
Southern California Trophy will take your most prized item and permanently mount on a laminated wood board, or, encase in solid acrylic. Our processes involve heat and high pressure to seal the document or item without damage. Once sealed, these items will never discolor or deteriorate.
For over 50 years, we have captured your prized documents in a sealed process that keeps out air and moisture thereby preserving your special memory or achievement.
Tombstone Awards

Tombstone embedments are commonly used in the financial industry. Named for the classic upright shape, we take your printed document or memento and permanently encase in solid acrylic. Once sealed, these items will never discolor or deteriorate.

Financial Awards & Deals

Commemorate that large financial transaction with a classic memento. Recreate the financial deal with an embedment detailing the impressive statistics.

We will reprint the financial transaction details on a miniature financial sheet and seal in the crystal clear acrylic embedment for all to see.

Prospectuses

Memorialize your latest prospectuses outlining your successes. The perfect memento for your business partners. Docu-Seal will recreate your prospectus in miniature book format and permanently seal in a clear acrylic cube of your choice.

Employee Awards

Acrylic Embedments are a great way to create an employee award that is viewed again and again. The intrigue of seeing an object suspended in the middle of a polished acrylic wedge or oval is something that draws discussion. Embedments can be personalized with lasers to finish this unique award.

Wedding Cubes

The symbolic breaking of the toasting glass at a wedding can be permanently commemorated in a most unique way. Suspend the shards of the glass within an acrylic cube for the perfect memento of this special occasion.

Product Displays

Display your company's product in a most unusual way. Docu-Seal will take your item and permanently seal in polished clear acrylic. The item will be magically suspended for a 3-dimensional viewing.

This form of embedment is perfect for business gifts or awards that need to "tell a story".
General information:

The embedment process is a combination of heat, pressure and solvency. These factors can affect many items, particularly plastics (can cause warpage or bubbling), rubber (bleeds), organic materials (can cloud or discolor), painted items (can peel, wrinkle or bleed) and pieces of metal (can split or crack the lucite), exposure to cold can also cause metals to crack. Factory testing will be performed before acceptance of order.
Due to chemical and heat reactions involved, one of a kind and valuable objects are not recommended.

Production time:

Production time is 3 weeks. In addition, you must allow time for shipping.

Artwork requirements:

Please send any artwork for embedment via e-mail in either an adobe illustrator 8 or eps file. If artwork needs to be reworked, additional charges will apply.
---
Request Lucite Embedments Quote
Only Mirro-Plaque actual "DOUBLE LAMINATES" your documents under sparkling, clear plastic. 150 tons of pressure shuts out all air, moisture, and other harmful, destructive elements forever.
Only Mirro-Plaque gives you authentic wood grains or rich, solid colored background for matching beauty. Wood grains of Walnut, Teak, Oak and Elm Burl or Eight Solid Colors are available.
Only Mirro-Plaque can give you the New and Modern Elegant Satin Non-Glare Finish or Beautiful Gloss, both washable and unbreakable.