About Southern California
Trophy Company

Southern California Trophy Company, Inc. (SCTC) was established in 1927 in Los Angeles, California by Edwin Bathke. Our company is among the oldest and largest awards companies in the nation. Still situated within 2 miles of our original downtown location, we remain under the same original family ownership residing in a 25,000 square foot production facility.
Our lengthy history has given us the experience necessary to succeed and the opportunity to be involved in the creation and production of some of the most prestigious and noteworthy awards ever created (See Below ). We welcome the opportunity to do the same for your firm or organization.
Southern California Trophy Company is a full service operation specializing in the design, development and completion of personalized awards. We utilize in-house production methods including computerized engraving, hand engraving, laser etching, silk-screening and machining. We have a full-time staffed art and graphics department that is computer linked to our order entry, production and shipping department.
We design and inventory hundreds of awards that are in stock for immediate production. These are made available through our network of full color catalogs. Please feel free to request any of our catalogs for your own perusal, or, contact us via toll free phone, fax or E-mail to expedite your request.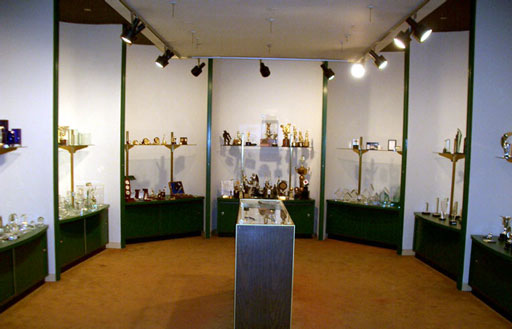 Famous Awards
Following is a partial list of well-known awards that Southern California Trophy Co. has had the opportunity to be involved with. This includes design, production and/or distribution.
ARTS & ENTERTAINMENT INDUSTRY
Academy of Motion Picture Arts & Sciences "Oscars"
Academy of Motion Picture Arts & Sciences "Irving Thalberg Lifetime Achievement Award"
The Golden Globe Award
TOYM Award (given annually to the Top 10 Young Men in America
Patsy Award (given to Lassie and other animal "stars")
American Movie Awards
Screen Actors Guild Award
Angel Award (given to "morally upright" productions/individuals within the entertainment industry
Mary Pickford Award
THEA Award
MEDIA / ACADEMIC
Associated Press "Mark Twain Award"
William Randolph Hearst Journalism Award
Bill Stout Memorial Award
Golden Nugget Awards
Laurel Awards
COMMERCIAL
9 Lives "Morris The Cat" Award"
Starkist "Charlie Tuna" Award
Western Airlines "Wally Bird" Award (..."the only way to fly")
J.D. Power and Associates Awards
SPORT
Major League Soccer MVP Award/Goal of Year Award/Rookie of Year
Wheelchair Olympics
Pro Bowl Football Game Perpetual Trophy
Rose Bowl Game Perpetual Trophy
National Underwater Spear fishing Trophy
Victor Award (Michael Jordan has won 8 times)
Helms World Trophy (8 foot tall-cost $15,000 to produce in 1948)
National Association of Intercollegiate Athletes "NAISMITH" Award
Olympic Gold Medals (including 1932 L.A. Games)
HUMANITARIAN
City of Hope "Spirit of Life" Award
Salvation Army "Sally" Award